Sport and Convention Centre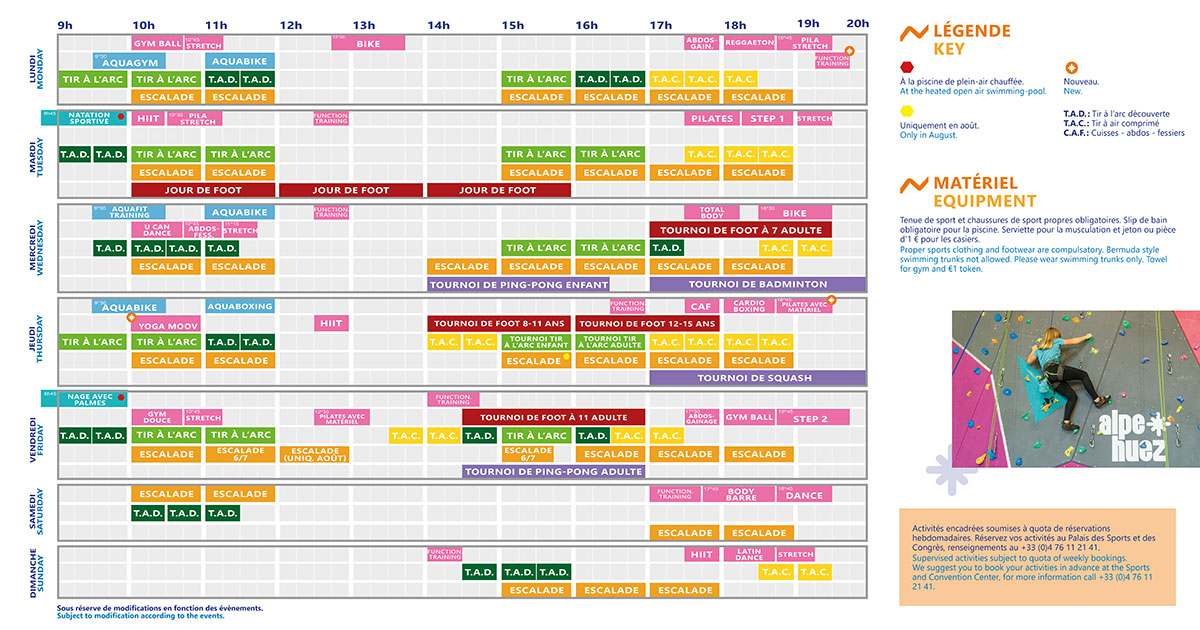 Description
More than 30 activities offered by Alpe d'Huez Sports and convention Centre (indoor swimming pool, gym, aqua gym, badminton, squash, step aerobics, stretch class, gym, climbing, table tennis, squash and tennis courts...). Free access with premium card.
A great playground, it allows everyone to enhance their holidays around the sport and gives the resort a status of official supplier of champions.

Sports Palace
Water activities, water aerobics, fitness, bodybuilding, cardio, tennis, squash, badminton, table tennis, archery, air-blast, climbing, mini golf, jorky ball, combat sport, team sports (basketball) ball, futsal, handball, volleyball, hockey, water polo).

... and Congress
2 auditoriums: 172 and 86 seats. 11 rooms (maximum 1000 people for one of them).
Contacts
Avenue de Brandes
38750 Alpe d'Huez

Telephone : 04 76 11 21 41
e-mail :
sports.loisirs@mairie-alpedhuez.fr
Website :
https://www.alpedhuez.com
Prices
SUMMER
6-day PREMIUM CARD
ADULTS / SENIORS:
Full Adult Premium Pass: € 80.50
Complete Premium Pass for seniors + 65 years old: €69.50
CHILDREN:
Premium 5/15 years (swimming pools-skating rink + leisure option): € 41
Premium 8/15 years (swimming pools-skating rink + sports option): €59.
Openings
From 26/06 to 29/08/2021 between 9.30 am and 8 pm.
"As of July 21, 2021, presentation of a valid health pass will be required to access the Palais des Sports. Checks will be carried out at the entrance. Remember to bring your health pass (-a complete vaccination cycle, an antigen or PCR test of less than 48 hours, a positive COVID test of more than 11 days and - of 6 months.) As well as a piece of 'identity. ".
Equipments
Toilets
Car park
Defibrillator
Parking
Coach parking
Services on site
Further information
Mean(s) of payment
Language(s) spoken
Information in
Maximum capacity : 961
Number of equipped meeting rooms : 11
Venue equipped for
Concert/events
Convention
Family Reception/drinks reception
Exhibition/trade fair
Seminar/meeting
Equipment
Video projector
Paper board
Screen
Microphone
Wifi in room
Stage
Amphitheater
Catering
Accomodation
Accommodation in the close vicinity
Meeting room
---
Name : SALLE DES GRANDES ROUSSES
Maximum capacity : 400
Natural light : yes
Surface area : 370 m²
Height : 6

Classroom room
250

Theatre style
400

U-shape
114

Cocktail
340
Meeting room rate
Minimum : 1136.2 €
Maximum : 2027.22 €
---
Name : LA GRENOUILLERE
Maximum capacity : 961
Natural light : bool-
Surface area : 800 m²
Height : 9

Theatre style
961

Cocktail
650
Meeting room rate
Minimum : 394.68 €
Maximum : 563.32 €
---
Name : LE PIC BLANC l LA PYRAMYDE l L'HERPIE
Maximum capacity : 100
Natural light : bool-
Surface area : 127 m²
Height : 7

Classroom room
80

Theatre style
80

U-shape
40
Meeting room rate
Minimum : 251.16 €
Maximum : 370.76 €
---
Name : LE SIGNAL DE L'HOMME
Maximum capacity : 150
Natural light : bool-
Surface area : 200 m²
Height : 3

Classroom room
100

Theatre style
150

U-shape
60

Cocktail
200
Meeting room rate
Minimum : 100.46 €
Maximum : 143.52 €
---
Name : AUDITORIUM PHILIPPE DE BROCA
Maximum capacity : 172
Natural light : bool-
Surface area : 165 m²
Height :

Theatre style
172
Meeting room rate
Minimum : 388.7 €
Maximum : 556.14 €
---
Name : LE SIGNAL
Maximum capacity : 100
Natural light : yes
Surface area : 100 m²
Height : 3

Classroom room
70

Theatre style
100

U-shape
36

Cocktail
100
Meeting room rate
Minimum : 334.88 €
Maximum : 550.16 €
---
Name : AUDITORIUM DE BELLEDONNE
Maximum capacity : 86
Natural light : bool-
Surface area : 75 m²
Height :

Theatre style
86
Meeting room rate
Minimum : 236.81 €
Maximum : 328.9 €
---
Name : LA MEIJE
Maximum capacity : 55
Natural light : yes
Surface area : 68 m²
Height : 3

Classroom room
40

Theatre style
55

U-shape
30

Cocktail
40
Meeting room rate
Minimum : 215.28 €
Maximum : 310.96 €
---
Name : LA SURE
Maximum capacity : 50
Natural light : yes
Surface area : 49 m²
Height : 3

Classroom room
35

Theatre style
50

U-shape
20

Cocktail
50
Meeting room rate
Minimum : 131.56 €
Maximum : 227.24 €
---
Name : LE PELVOUX
Maximum capacity : 19
Natural light : yes
Surface area : 40 m²
Height : 2

Classroom room
19

Theatre style
19

U-shape
19
Meeting room rate
Minimum : 95.68 €
Maximum : 167.44 €