The « Famille Plus » label is a national tourism label that approves the facilities and services available to families and children staying in French tourist destinations. The label is recognized by the French Ministry of Tourism and Alpe d'Huez has been a 'Famille Plus' resort  since May 2013.
Alpe d'Huez is fully committed to doing their utmost for families and children to make sure that their holiday is a great success.  Family holidays are about spending time together and sharing the excitement of new experiences and adventures. We, as a resort, strive to make your holiday unforgettable.
6 commitments that 'Famille Plus' are dedicated to providing:
1. A really warm and friendly welcome for visiting families
2. Entertainment and activities suitable for all ages
3. Prices adapted for different age groups
4. Activities for all ages to enjoy individually or as a family
5. Shops and amenities that are close by
6. Children are taken great care of by our professional staff
« Famille Plus destinations for families of all ages » it's the seal of approval   that families can count on to ensure their holiday is a great success!
'Famille Plus': Fantastic family vacations, wherever your destination!
The « Famille Plus » certification is given for a duration 3 years to resorts that go out of their way to put families and children first.   To renew the certification, the resort has to undergo an audit to make sure it is still worthy of the seal of approval.
Regular checks and meetings are held throughout the period to ensure that the criteria are being respected and to exchange ideas with regard to improving and enhancing what already exists as to adapt to the changing needs and expectations of visiting families.
Alpe d'Huez and its accommodation providers, activity services, restaurants and local commerce are wholly engaged in ticking all the boxes that families meet their desires.
Local services with the 'Famille Plus' label
Today about 60 partners businesses and services have chosen to participate in this commitment to holidaying families and have obtained the 'Famille Plus' seal.
On the Alpe d'Huez website, alpedhuez.com you can easily recognise the little logo: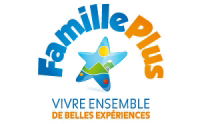 These partner services have put together some great services and deals especially adapted to suit the needs of children and families. Don't hesitate to contact them!