At the Sports & Congress Center
The Palais des Sports et des Congrès offers a multitude of activities, many of which are specially adapted for children:
1 special climbing lesson per week for 6-7 year olds (Please note: places are limited)

Climbing lessons are open from 8 years old

Archery is accessible from 8 years old

Compressed air shooting is open to children from 10 years old

Football tournaments are organized for 8-12 year olds

A pan room (climbing) is accessible to initiated children from 13 years old

The paddling pool of the covered swimming pool will delight the little ones
At the open-air ice rink
The open-air ice rink at Alpe d'Huez also offers many activities for children who want to learn about the pleasures of sliding on ice:
Sledges are available to parents so that toddlers can sit down, or to help them learn to skate

Ice skates can be rented from size 23 (from 3 years old)

Curling and human curling tournaments, from 13 years old, are organized to discover these original activities.

LOL evenings, specially reserved for young people between 12 and 15 years old, are also organized there.

Possibility of taking private or group skating lessons

Several times a week (schedule on request), an ice garden is set up on the ice rink.
At the heated outdoor swimming pool
The heated outdoor swimming pool is equipped with a large swimming pool, but also a smaller pool:
accessible from 3 months
purchase of swimsuit, hat, … possible on site
possibility of taking private swimming lessons
In Vertigo
An adventure jungle style gym where no harness are needed at 8m off the ground in the Sports and Convention Center.
PREMIUM card

A PREMIUM
card to build according to desire and budget, for children and parents!
Sledging areas
The resort offers different sledging areas for young and old!
Under the Grandes Rousses gondola (access by DMC1): sledging with brakes and wearing of helmets compulsory (not provided)

Sledding areas maintained and reserved for the little ones in the Bergers sector (between the Marmottes 1 and Romains chairlifts).

A 20m wide and 50m long track allows a materialized and secure ascent and descent!

A 4-season toboggan run on illuminated rails in the Bergers sector allows 1 km of descent with turns, jumps, waves, flip-flaps, twists, tunnels… and the possibility of descent with a virtual reality mask!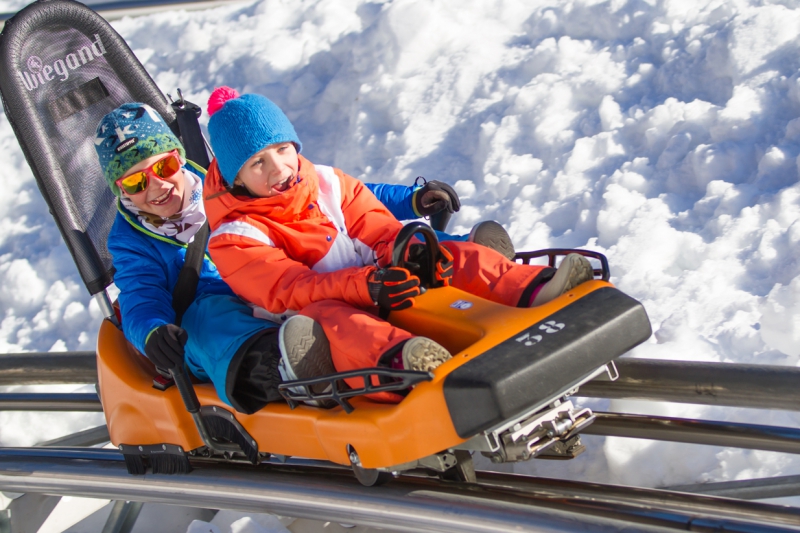 Escape Game
2 Escape rooms: Ski Room and Mayday / 1 outdoor area (augmented reality games on tablets in the resort): The magic portal / 1 aperitif escape (decipher the puzzles to open the cooler!).
Carousel
Installed on the avenue des Jeux, on the square in front of the ice rink, the carousel with its traditional merry-go-round features eight mobile horses and a dozen subjects including the Yellow Bee, the famous Alpe d'Huez plane.
Big Wheel
The Alpe d'Huez Ferris Wheel is packing for the winter season! Embark on the highest Ferris wheel in Europe, at an altitude of 1,850m. For young and old! Wheel 40 meters high.
Sleigh dogs
The dog sled rides immerse you in the Nordic adventure. Sleigh ride on pedestrian walks, reservation required 15 days before.
Ski Joering
Come and discover ski-jöering behind a horse. This is a great opportunity to rediscover nature in winter to the rhythm of the horses. It is also a way to introduce non-riders to the pleasures of the horse.
Library and multimedia library
Everyone is welcome free to borrow document (books and DVD).Entertainment planned throughout the year : shows for younger audiences, meetings, conferences, exhibitions, …
Huez and Oisans Museum
Entrance for free ! Exhibitions, events, conferences, workshops and temporary exhibitions are regulary planned.